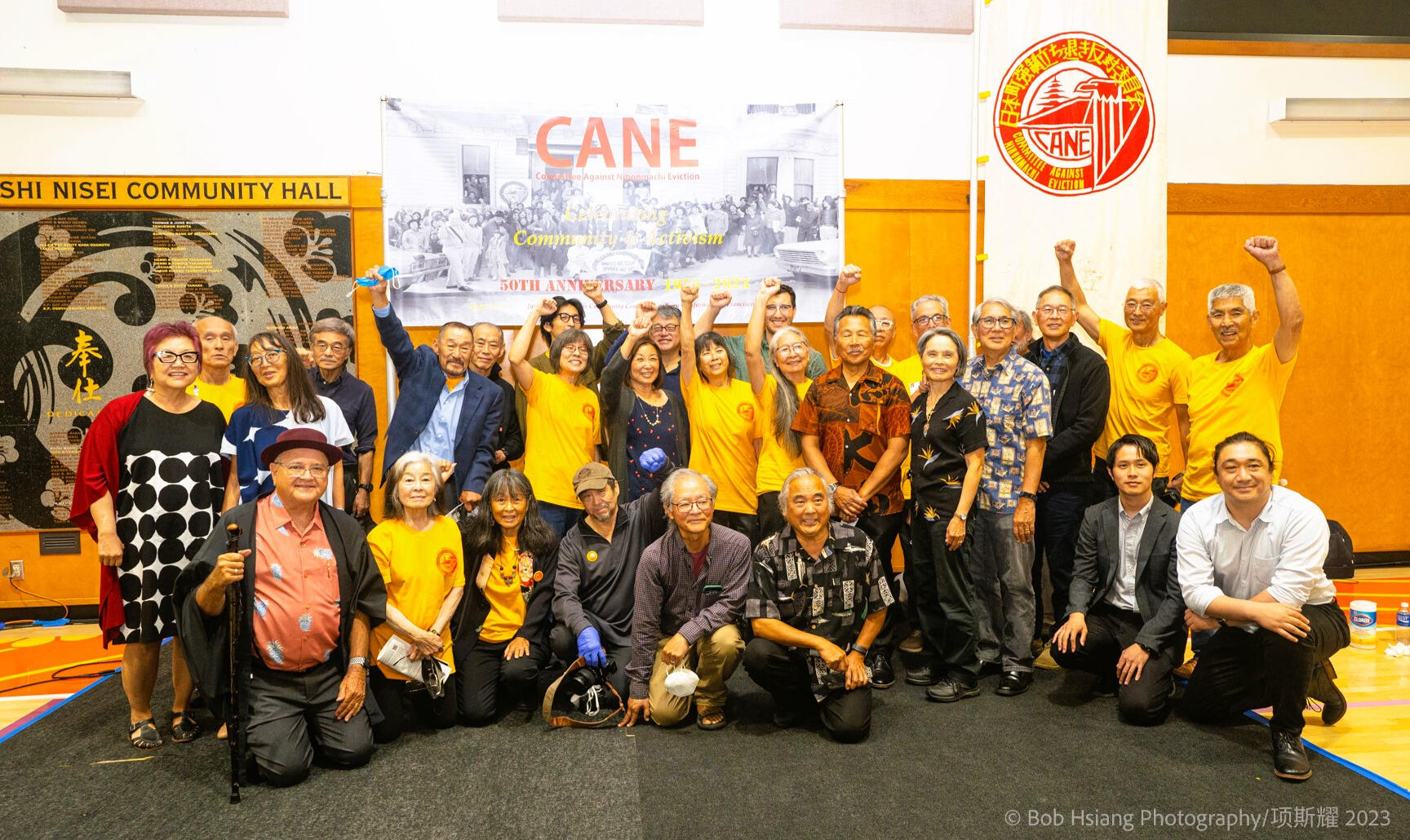 Some of the organizers, speakers and volunteers who made the August 19 celebration such a big success! Photo by Bob Hsiang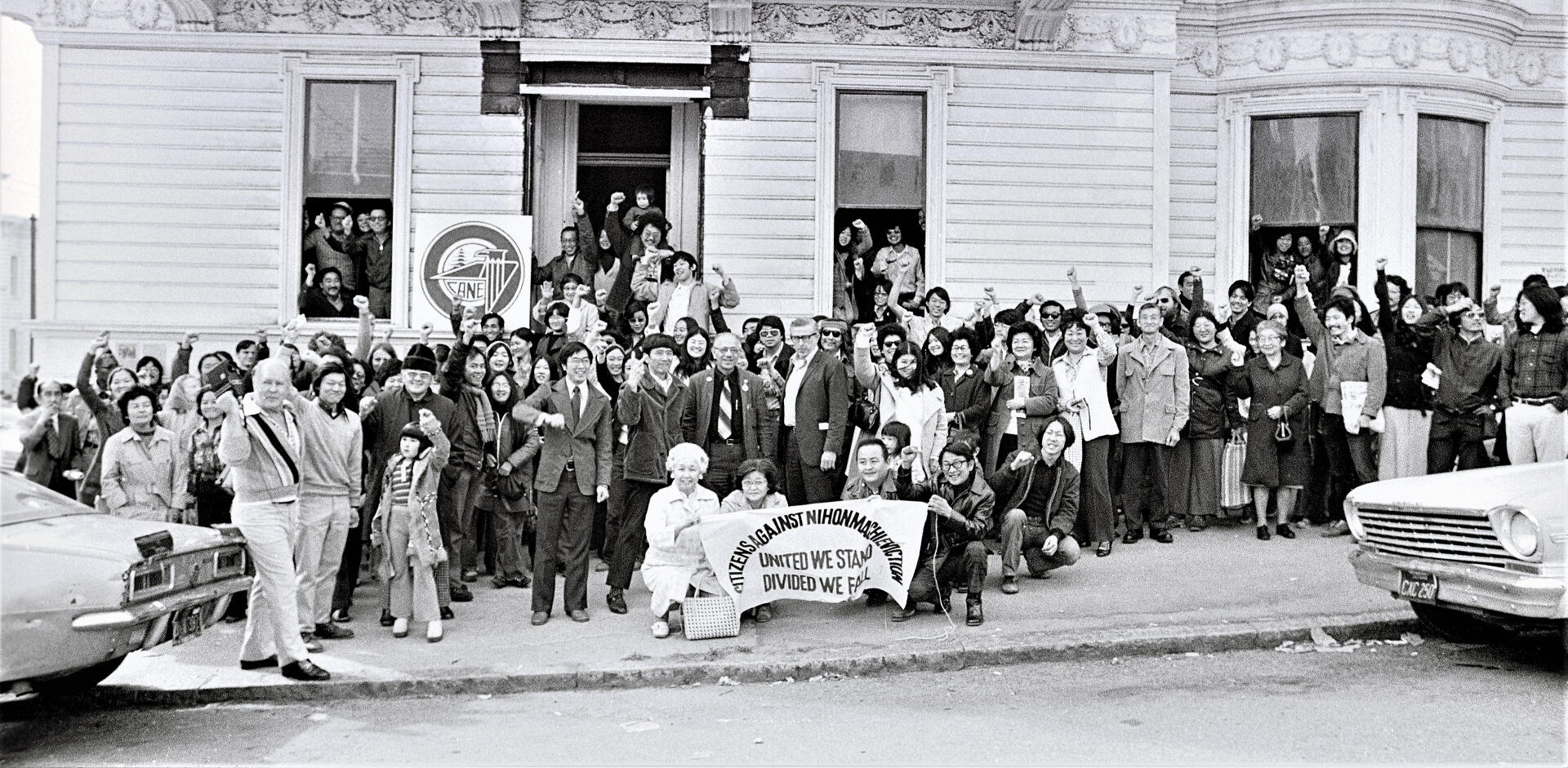 CANE 50th Anniversary
sro crowd of 250 Celebrate "Activism and Community"
August 19, 2023
JCCCNC, 1840 Sutter Street, San Francisco
A SRO crowd of 250 celebrated CANE'S 50th Anniversary on Saturday afternoon August 19. The JCCCNC was filled with former CANE members, past residents and former merchants, some coming from as far away as the East Coast and Japan. In attendance too was the new generation of community activists supporting CANE's legacy and working as volunteers.
"Activism and Community" served as the day's theme reflecting CANE's on-going conviction of taking action in order to create progressive change. Joyce Nakamura served as the master of ceremony and Mickey Imura presented the keynote address. Both are former CANE Activists.
Over a dozen speakers reflected on their CANE experiences and spoke on the impact the organization had on their lives and Nihonmachi. It was clear that CANE's legacy had flown under the radar as the speakers associated its work to the progress for community control. Entertainment was provided by Jiten Daiko and AK Black with Francis Wong. An audience sing-a-along was led by William Tamayo, Robert Kikuchi-Yngojo, Peter and Wendy Horikoshi. Also featured was a photo and artifacts exhibit by Lucien Kubo and a trailer for a new documentary entitled "Ganbaro! The Fight for the Final Four Blocks." A generous post event gourmet meal was prepared by Diane Matsuda of JCCCNC along with an assortment of cookies baked by Susan Shimamoto.
Cruisin' J-town, the missing video from the 50th Anniversary Presentation. And an updated version of In Memoriam.
CANE 50TH ANNIVERSARY T-SHIRT Still a few left!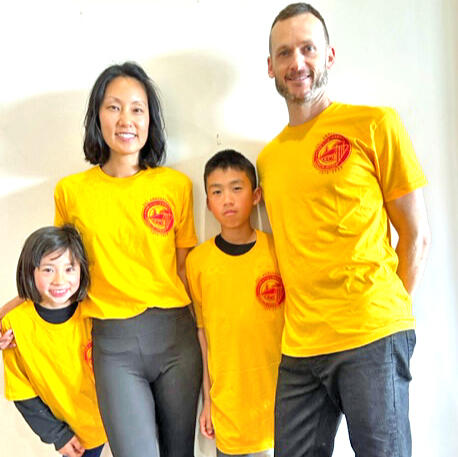 A true Collector's Edition!
CANE T-shirts fashioned after the original!
A few still available.$26/each includes shipping.
---
SUPPORT the CANE Archive Project
The CANE 50th Anniversary Planning Committee formed in January 2021, to organize the 50th Anniversary; publish the CANE Story from the perspective of those involved; and to collect and archive CANE documents and memorabilia.Your donation will support the CANE Archive Project so that future generations can learn the history of CANE's work and how it helped to shape Nihonmachi.Asian Pacific Islander Cultural Center (APICC) is proud to fiscally sponsor the CANE 50th Anniversary event and Archive Project aka the CANE Archive Project.APICC as a 501(c)(3) non-profit organization.
---
Any Questions? Email CANE50th@gmail.com.
These Photo Gallery photos are by Mark Shigenaga, Copyright; Bob Hsiang, Copyright; and June Hibino.
Anniversary Group photo on Home Page copyright by Bob Hsiang Photography.
CANE group photo (black & white) on Home Page copyright by Richard Wada.
The CANE 50th Anniversary Celebration was a Once-In-A-Lifetime Experience. We hope those who attended will reflect back on August 19 and write about what was memorable, what surprised you, what memories were rekindled, if you rediscovered something about yourself, how it made your heart feel. Because we will never have this experience again . . .
Give us your reflections with or without your name. Please share it using this contact form:
CANE Anniversary Reflections and Memories
Reflections and Memories from Our Speakers
Top Row: Suzy Jones, Hiko Shimamoto, Paul Osaki, Rick Jurgens, Kitty Mah, John Tsukahara, Bobby Okamura, Koichi Ando
Bottom Row: Cathy Inamasu, Rev. Gary Barberee, Dale Minami, Eryn Kimura, Richard Tokeshi, Joyce Nakamura, Mickey Imura, Boku Kodama
Mickey Imura
Hello everyone, my name is Mickey Imura. Thank you Boku for the Cruising Jtown slideshow which provides an overview of what CANE was about and celebrates those who were in CANE. It puts into context our theme today: Celebrating Activism and Community. Our theme celebrates Sansei activism which began in the mid-60s to early 70s. We were a product of the Civil Rights Movement. Some of us participated in the Third World Strikes on campuses and won our demands to have Ethnic Studies.We joined the anti-Vietnam war movement and linked our struggles as Asians in America with the Vietnamese people's struggle for self-determination. Some of you may recall or chant back in the day
"One Struggle Many Fronts" to signify this unity. We celebrate the birth of Sansei activism that was a part of the Asian American consciousness movement that gave rise to organizations like CANE, Kimochi, JCYC, NLO, NLF, progressive Asian American arts organizations like JAM and Kearny Street Workshop. We share this activism with the Issei and Nisei who inspired us and we stand shoulder to shoulder with the Yonsei and Gosei who continue this legacy today. In celebrating Community we're celebrating our predecessors' legacy: 117 years of San Francisco's Japantown that they built, establishing businesses, raising families And their efforts to keep this a thriving community.The Issei and Nisei have passed the torch to us Sansei and now we hope the next generation, Yonsei and Gosei, will carry the torch moving forward. An important lesson we in CANE learned was that change is possible when people are committed to a clear vision based on guiding principles to accomplish our goal of preserving Nihonmachi. In order to do this, there needs to be transparency and a healthy environment where all sectors of the community including new comers can voice their opinions. And to be heard and treated with respect. Today, only with a united Japanese community can we take action to determine Nihonmachi's future.
"Together United We'll Never Be Defeated!"Suzy Jones
It's an incredible honor to be here today and have the opportunity to say a few words about what CANE meant to our family. My mom, Helen Jones, was a member of CANE – for those who didn't know her, She was an African American woman, a single parent of three daughters, a playwright, an African American historian, and a fighter of equality Anywhere and Everywhere. She grew up in Ithaca during the height of the civil rights movement, where she gained a vast exposure to international students and developed a great appreciation for diverse cultures, and where she solidified her skills as a grass roots organizer understanding that full equality could ONLY be achieved when we stood strong together for Equality for All.So when we landed in the Western Addition in the late 60's, it was no surprise that we found community at the intersection of J-Town and the Fillmore - where borders were once blurred and cultural exchange was interwoven into our daily lives. As latchkey kids, we were always busy in our Western Addition Village - where the entire community
kept a watchful eye:
• In our after school programs at Kinmon Hall
• Working behind the counter at Weldon's Groceries
• On the floor reading books at Marcus Books Store
• Sneaking into the original Kabuki Theatre where we watched movies with English subtitles
• Eating "authentic Japanese food" at all the neighborhood restaurants who would let us run a
tab for mom to pay later
• And in camp at JCYC, where we ALL eventually became camp counselors.
And ALL the neighborhood kids participated in community events –
• We danced in Obon - mom wearing her African Dashiki and her grandson Hassan tagging closely
behind
• We made 1,000 cranes
• We lined up outside of Wong's bait shop before the crack of dawn for our annual fishing trips
• AND we saved our quarters all year long for the annual Bazaar at the Buddhist churchOur lives were intertwined: and at the core of all of these events, was CANE. While us kids were having fun, our parents were organizing, they were protesting, and courageously standing up – FOR OUR community, FOR OUR cultures, FOR OUR legacy, for each other. It was not uncommon for me to be on a playdate and have someone say "Hey, is that your mom on the news chained to that building"? I'd proudly respond by saying – "YEP, that's my mom." When CANE was no longer active – Our Village still stood strong together. Any injustice against any member of the community was met with resistance by the whole community.Benkyodo remained the central repository for neighborhood news (and gossip). And milestones continued to be celebrated and grieved together over the years.
When we arrived in San Francisco in the late 60's, CANE, Japantown and the Fillmore greeted us with open arms.And when my mom was in her final days of this lifetime and her three girls did not know what to do, the first knock at our door was Sandy Mori, who told us she was here and would take care of everything. Of course, being defiant until the very end, mom transition that day – on her own terms, without being a burden to anyone - surrounded by family and supported by her CANE community.Paul Osaki
I'm here today to speak in honor of my father and I'm wearing his WACO button, not the town in Texas, but for the Western Addition Community Organization. WACO was started by the black churches to resist the RDA, my father was part of the WACO board as the first director programs.He was representing CUPC (Christ United Presbyterian Church), so it became the first Black – JA organized effort in the history of the Western Addition. He kept this button in a tray on top of his bureau dresser along with his tie tacks and shirt cufflinks. This WACO button was jewelry to him, it was that precious to him.My first memory of CANE was my dad getting yelled at for letting them use the church for meetings. Some of the Nisei church members felt that CANE was a radical group of young people and they were calling the house.The first CANE member I met was my friend Carole Hayashino who cannot be here today. At the time she was my college instructor at SFSU in Asian American Studies. She hardly seemed radical except she smoked cigarettes in the classroom.A Lot of CANE's History Has Become Forgotten or Lost Overtime. So I'm Here - Giving CANE its Rightful Name in the Fight to Preserve Our Japantown.THE FIRST RESISTANCE OF JAPANTOWN IS PART OF CANE'S LEGACY!
CLAIMING JAPANTOWN AS OUR HOME IS PART OF CANE'S LEGACY!
THE FIGHT FOR THE SMALL BUSINESSES IS PART OF CANE'S LEGACY!
THE FIGHT FOR LOW INCOME HOUSING IS PART OF CANE'S LEGACY!
THE FIGHT FOR THE PEOPLE IS PART OF CANE'S LEGACY!
THE FIGHT TO STOP THE EVICTIONS IS PART OF CANE'S LEGACY!
CALLING OUT KINTETSU IS PART OF CANE'S LEGACY!
THE FIGHT TO STOP THE DESTUCTION OF JAPANTOWN IS PART OF CANE'S LEGACY!
JARF IS PART OF CANE'S LEGACY!
THE CENTER IS PART OF CANE'S LEGACY!
MY FIGHT FOR JAPANTOWN IS A CANE LEGACY!!!
*****
I WROTE SOMETHING - It's Not Poetry. And even if I understood it, it's Not Spoken Word. So I Call it – "Talkin Street Jive"
FIRST RESISTANCE or FUCK DA RDA
In Honor of CANE, FIRST RESISTANCE
THEY WOULDNT TOE THE LINE
THEY GOT BUSY AND MADE THE SIGNS
AND FOR THE FIRST TIME IN JTOWN
THEY FORMED DA PICK-IT LINE
THEY SAID "FUCK DA RDA"
AINT GOIN TO MOVE US A SECOND TIME
THEY CAME FROM ALL OVER TO JOIN THE FIGHT
THIS IS OUR HISTORY THIS IS OUR HOME
A COMMUNITY FIGHTING BACK TO ASSERT ITS RIGHTS
FUCK DA RDA – COME ON, LETS FIGHT!
ITS ABOUT A GENERATION FINDING ITS VOICE
FOR GENERATIONS BEFORE WHOSE VOICE WENT UNHEARD
THEY WERENT JUST A BUNCH OF CRAZY RADICAL SANSEI,
THEY WERE NISEI, BROTHERS AND SISTERS INCLUDING ISSEI
THIS IS NOT A REUNION JUST TO TALK
ABOUT YOUR AGING PAIN
SO, RAISE THE FIST
ITS ABOUT REMEMBERING YOUR NAME - CANE!
ITS ABOUT REMEMBERING YOUR NAME - CANE!
FUCK DA RDA!
(BOOM drop da mic!)
Hiko Shimamoto
Before we get started with the toast, I just wanted to say something. I wanted to say THANK YOU to all the members of CANE for what you did for me and my parents 50 years ago. Back then we were renting an upstairs flat above NB Dept store on Buchanan St. when out of the blue we were blindsided with a 30 day eviction notice from RDA.
I was shocked. I was aware of redevelopment, but because we were not property owners, we were pretty much kept in the dark about what was really going on. At that time, RDA was only talking to the property owners in Nihonmachi. Then, around the same time, a group of activists had come together to fight for the rights of the tenants and small businesses who were also facing eviction. I joined
CANE because I loved Nihonmachi, and did not want to see it destroyed, and especially because my Mother really wanted to stay here.Upon reflection, you can see that CANE has done a lot for the community and has made its' mark. The reason I say this is because of something I heard a couple of weeks ago. I just returned from a trip to Japan with the Shinzen program sponsored by the JCCCNC (the Center). One of my granddaughters was participating in this youth basketball goodwill program. Many of the Japanese people do not know much about the history of Japanese Americans and the hardships they faced in this country, but they want to learn. The Center presented a brief history lesson beginning with immigration, the establishment of numerous Nihonmachis in California (43), the forced removal and destruction of our community during the war, and the re-establishment of just a handful of Nihonmachis after the war. Sadly, there are only 3 left now. It was noted that here in San Francisco, during the 70's, there was another attempt to destroy the community, only this time it was in the name of redevelopment. However, this attack was met with strong protest by an organization named CANE. Many tenants and small businesses that were threatened with eviction in addition to many others that were concerned about the future of Nihonmachi joined CANE to fight against redevelopment. This was a momentous mobilization of the community, the likes of which had never been seen before. The assertion of CANE during the history presentation was a testament that the CANE story is an important chapter in the history of San Francisco's Nihonmachi.Therefore, on this occasion of the 50 th Anniversary celebration of CANE, I would like to propose a toast. To CANE: Thank you for all that you have done! Here's to your Legacy of Community and Activism!
Rick Jurgens
In 1976, I was a member of Tenants Action Group, which comprised a couple dozen young activists doing tenant counseling and organizing from storefronts in the Haight and the Mission, when we were invited to join the Coalition to Support Nihonmachi Tenants. I thank the organizers of today's program for giving us the opportunity to look back on that period ... to honor those efforts and fighters ... and to affirm and draw lessons from the stands we took.Today, I am happy to recall the people – residential and commercial tenants, certainly, but also young activists, current and former students, Japanese and Chinese Americans, African
Americans – whose lives and struggles we set out to support. I think it is also important to emphasize the politics that drew us to support Japantown and CANE.As we came to J-town, we almost universally opposed the U.S. war in Vietnam. Most of us supported the black struggle for civil rights led by Martin Luther King, Malcolm X, Fred Hampton (and later Jesse Jackson). Many of us drew inspiration from the revolutions underway in Vietnam and being consolidated in China. And, with the thrill of new discovery, some of us sought to find our place in the too-often-suppressed revolutionary tradition of American workers, formerly enslaved people, Native Americans, immigrants, students, small d democrats and socialists.As part of CSNT, and the International Hotel Support Committee, we found friends andcomrades and everyday people who shared our values and objectives and – very importantly –
were ready to test ideas and forge unity in practice, in work in real communities aimed at immediate reform and also lay the groundwork for more fundamental change.For many of us, our time in J-town was brief. We joined a struggle to save an oppressed community and assert the democratic rights of its residents. We hoped, and still hope, that we made real – even if fairly small – contributions to that struggle. But we know for sure that our shared experiences with the activists, residents, small businesspeople and others whose political, cultural and commercial lives were based in Japantown, prepared and improved us to continue in various struggles for peace, justice, equality and socialism.So today, as we return, I ask you to join me in raising a metaphorical glass to say: Forward in the struggles to stop and mitigate global warming, prevent nuclear destruction and rein in the
reckless greed of monopoly capitalism. Remember the Coalition to Support Nihonmachi Tenants. Long live the Committee Against Nihonmachi Eviction.
Joyce Nakamura
Over 2 ½ years ago we started to plan this event. Our goal was to celebrate CANE's anniversary and its legacy in the community. A proud legacy that spans from fighting evictions and supporting JARF housing and the construction of the JCCCNC, to support for immigrant Japanese workers, to joining the anti-nuclear movement and support for the A-bomb survivors, to sponsoring the Tule Lake Pilgrimages and taking up the historic fight for redress/reparations. We fought redevelopment in solidarity with others in Chinatown/Manilatown to "Defend the I-Hotel!," in the Western Addition and the South of Market.Many of the issues 50 years ago are still with us today. The need for affordable housing, small business and community space. The need for restitution from the City for the destruction of our community. The need to stop gentrification and property being sold for uses that do not benefit our community.CANE stood for empowering the grassroots, and fighting the government for our rights. We hope the lessons of building a broad, multi-generational movement to win, of working in solidarity with our allies, will give us confidence to reach our goals to preserve and protect Japantown, and to build a Japantown for the people – for generations after us to be able to learn, celebrate and pass on our history, culture and traditions, organize to build economic, political and institutional power to fight racism and all injustice!Cathy Inamasu
It's so good to see so many of you here who have had grandchildren, children, nieces, nephews and friends as students of Nihonmachi Little Friends. NLF is now located next door, at the former Japanese YWCA building. I became involved with CANE in the fall of 1975, when I started working at NLF. NLF's founding group included CANE members and supporters, so naturally, I was introduced to the important work they were doing in the community. CANE was a very organized and determined group of activists. I remember joining meetings at CANE's office, which was right here in this location, participating in demonstrations, and taking shifts in a couple of buildings to keep watch on them. And those properties were saved and would later become the Kimochi Home and the apartments around the block on Buchanan Street! CANE's work to save Japantown continues to be relevant today, enabling organizations like NLF to flourish and continue to serve our ever-evolving community for generations to come. So, thank you, and Happy 50th Anniversary!Dale Minami
In 1972, we opened our doors at the Asian Law Caucus with the mission to use law as a vehicle to empower the invisible Asian Pacific American communities in the Bay Area with legal support for the
most disadvantaged API's. Almost as soon as we opened, I was asked to defend a middle aged Japanese American who was facing eviction from her small restaurant on Webster Street in Japantown on 30
days' notice. The notice was given by the notorious San Francisco Redevelopment Agency ("RDA") which was removing thousands of Japanese and Black families and businesses from the Western
Addition area in the name of "urban renewal", otherwise known as "minority removal". It was a familiar scenario for Japanese Americans who were banished from their homes during World War II.My new client's name was Kiyo Otani, an Issei and her business was Kintoki Restaurant, a local favorite called "Mama Kintoki" in the community. I was 26 years old and knew little about landlord tenant issues so I did a cram course and filed an opposition to the Notice to Quit with some decent arguments.First, the notice was not personally delivered to Mama Kintoki as required by law but just slipped under her door, a lazy and illegal service of an official document. Second, the Notice was in English and I argued that since the RDA knew Mama Kintoki did not speak English, the Notice was defective. We asked the Court to annul the Order and allow Mama Kintoki to remain until she could be relocated as required by the SF regulations.A court date was set and luckily, the Judge assigned was Municipal Court Judge Harry Low. I say "luckily" because my experience in courts before starting the Asian Law Caucus was miserable, replete with racist comments by judges, refusals to appoint interpreters for monolingual clients and snide, deprecating remarks from the nearly all Caucasian attorneys who appeared in the courts.The RDA attorney showed up and immediately exhibited the arrogant, compassionless and rude demeanor reflected by the RDA's culture. In my 50+ years of practice to date, I think he was the biggest
jerk I ever encountered. He brought his process server who lied that he served the Notice personally. We countered with translated Declarations by Mana Kintoki and "Papa Kintoki", the chef and co owner, that they found the notice under the front door.The RDA attorney began aggressively attacking my clients as prevaricators at which point the Judge interrupted his screech by inviting us to join him in chambers. In chambers, the RDA attorney continued his red-faced rant, but the Judge authoritatively stopped him and commented that the arguments we produced seemed quite credible. He told the RDA attorney that if he granted our motion to stop the eviction, the "RDA" could would try to evict again, but "this young attorney [referring to me] would undoubtedly produce new arguments which would oppose the eviction, delaying any ruling. "You will then have to come back to this court, to me and this cycle would repeat itself for months if not longer".The RDA attorney, still fuming, but now with crimson complexion and no rebuttal, finally shut up. The Judge then made a practical solution: He asked the RDA attorney how long he needed. He reiterated his rigid position - "30 days". The Judge shook his head and said, "You're not getting 30 days" then turned to me and asked how long we need to remove equipment, reinstall stoves and ovens, set up anew. Sensing an opportunity, I said "one year, your Honor). He smiled, shook his head and said, "Well, you're not going to get that either so given the difficulty of moving a restaurant, how about 6 months?". The RDA attorney objected vehemently, but the Judge in his quiet but commanding voice suggested that it might take even longer should he rule. "So I suggest you accept the 90 days, Mr. Cherry face (not real name)". And that was the agreement.When we left the courtroom, walking down the hall, the RDA attorney was still venting about how he was going to appeal or report the Judge for misconduct or do some despicable revenge for this
outrageous injustice. I just smiled and ignored him. It's easy to be gracious when you win.Mama Kintoki found a new location on Sutter and Laguna; we were able to force RDA to provide all expenses, new equipment and began anew. About that time CANE organized to protect and defend the
Nihonmachi community politically. Mama Kintoki, a very gracious, funny and strong person, became an ardent and early supporter, a part of a multi-generational resistance. CANE became a strong voice against the eviction policies of the RDA and later on when another eviction was threatened to Mama Kintoki, CANE members protested and prevented another eviction.Kintoki had become an informal second home to CANE and I'd see folks there all the time. In fact, Mama was so appreciative, she offered me free meals for a year, which I, a very poor attorney, gladly accepted. And the food was good but I also felt guilty eating there often so the tip I'd leave was usually more than the dinner!POSTCRIPT ONE: Mama Kintoki became friends and gave me a beautiful woodblock which I've hung in my office for almost 50 years. It reminds me of her strength and the power of the community. And
later on, I ate at Kintoki regularly and paid FULL price.POSTCRIPT TWO: Judge Harry Low became a superstar who went on the become a Superior Court Judge, then Appellate Justice, California's Insurance Commissioner, President of CACA and other distinctions. We became friends later on and would meet socially.POSTCRIPT THREE: Judge Low's son, Allan Low, became an attorney and has done much pro bono work
in Nihonmachi. He clearly inherited his father's amazing skill and devotion to community service.POSTCRIPT FOUR: Mama Kintoki's Partner and chef was not just a terrific cook/chef but I only learned much later that he was my sister-in-law's uncle. I wonder if my brother and his wife got free meals!
Reflections from Members of the CANE Organizing Committee
Top Row: Kim Geron, Mickey Imura, Jeanie Hibino, June Hibino, Steve Hom, Boku Kodama, Donna Kotake
Bottom Row: Lucien Kubo, Kitty Mah, Joyce Nakamura, John Ota, Joan Takano, Tracy Takano, Ken Yamada
June Hibino
What moved me the most about the CANE 50 th Reunion were the photos and voices of the CANE members, residents and shopkeepers from long ago. I got emotional watching the In Memoriam slideshow of my old friends and comrades in the struggle, some of whom – like Gina and Mike – were roommates with me. And I was so happy to hear the loud applause when the photos of CANE activists who have since passed away were shown.50 years ago, I became immersed in the CANE struggle as a college student, catching the F bus from Berkeley, into SF for CANE meetings and tenant outreach. I was so fortunate to have learned about Japanese American history from the real-life experiences of the Nisei and Issei who were part of CANE and Nihonmachi. To this day, it makes me so proud to see photos of Dr. Kazue Togasaki, Mama Kintoki and others on the sidewalks of J-town bravely carrying picket signs, fighting to continue living and working in the community and to hear March Dobashi say, "if it wasn't for CANE, I'd be "pounding the beat --- the pavement!" CANE made a difference in people's lives. It was an organization by the people and for the people. I believe the 50th truly honored the memory of all the people who stood up together to fight the evictions and destruction of Nihonmachi.When we first decided to put on the 50th anniversary reunion, it was meant primarily as a chance for all of us who played a part in CANE to see each other again after so many years, to catch up and honor the contributions CANE made. But as time went on, the importance of preserving CANE's place in the continuum of JA history and struggle became so evident – especially because we knew that many people – especially the younger generations-- had never heard of CANE or the struggle against redevelopment.
The photos collected for the Cruisin Jtown opening, the panel exhibit of all the CANE memorabilia, the In Memoriam slideshow of the many people who supported CANE, and the Gambaro! documentary and all
the recorded reflections are now important pieces of post-camp JA history that are available for the younger generations and can be pointed to when someone says, "I never heard of CANE."I hope that SF Nihonmachi and the remaining Japantowns in LA and SJ can become more than high-rent tourist areas – that they can become vibrant centers of JA history, culture, and social and political life; a place where seniors, families and individuals –JA and non-JA can afford to live, contribute to the community and join together to fight against discrimination and for everyone's rights. I'm glad we started early – it took about 2-1/2 years to organize the 50th! Though we are now in our 70s, and some of us are more forgetful, or have difficulty hearing and are technologically challenged, the Planning Committee members -- from Hawaii to LA to New Mexico to the Bay Area –can be proud of all
we accomplished! It was a team effort – just like in the CANE days!Boku Kodama
The road to the 50th Anniversary event was as fun, enlightening and awe inspiring beyond anything I could have imagined. Working with my CANE colleagues proved once again that we had risen to the level of soul mates with a genuine love for each other. It was great to see old friends and meet the new generation of community activists who appreciated and gained inspiration by the stories and the presentations. Perhaps the most important takeaway was the personal stories of CANE's impact in giving the community its sense of control and the courage to speak out against injustice when Nihonmachi was on the verge of losing its identity. Now, it's important for us to remain vigilant because the future of the community is once again facing external consequences. But from what I saw from the audience, I feel confident we can craft an outcome that speaks for the community and by the community.Mickey Imura
CANE'S 50TH ANNIVERSARY was a huge success. Our program was powerful and everyone sensed the energy throughout the day. Reflections shared by speakers brought out a undeniable fact that CANE is a part of SF's Japantown legacy. I'm sure all committee members take enormous pride in putting on this historic event and I thank you all for letting me be a part of this process.Kim Geron
The CANE 50th Anniversary event was a powerful storytelling community gathering. I am proud to be a part of bringing an intergenerational group together to reflect and recognize the importance of defending SF Nihonmachi. The residents and small business owners who formed CANE in 1973, and the supporters of which I count myself as one, formed a mighty fist that took on the SF Redevelopment Agency, city hall, and greedy corporate interests who were trying to destroy the historic Nihonmachi for profit and international tourism. The decades long removal of thousands of Black people in the Fillmore district and many more in the Japantown community by these external forces in San Francisco was despicable and I believe these communities deserve reparations for the loss of community resources and livelihoods. Kudos to all involved with organizing, attending, and financially supporting this important community legacy event!Jeanie Hibino
50 years in the making. Two and a half years of planning. Through a pandemic, aftermath of an insurrection, an invasion, a midterm election. Reconnecting with (literally!) old friends, picking up where we left off decades earlier, never skipping a beat. Making new friends with the OGs, the activists who were in CANE from the get go. Listening to them talk story, "remembering when" or at least trying to. This was an honor and a privilege for someone who came late(r) to the party. The 50th anniversary was a culmination of those good vibes and memories of an extraordinary time. The program encapsulated what CANE represented in the community and what CANE meant to the community. There was no other before CANE and there has been no other since. We try not to lose the revolutionary fervor of the 70s because the lessons learned remain relevant, and the threat remains existential. Coming together to fight the "any day now" further destruction of Nihonmachi is crucial, difficult, exhausting. But CANE's enduring impact points us to the future with hope and optimism."Ours is not the struggle of one day, one week, or one year. Ours is the struggle of a lifetime, or maybe even many lifetimes, and each one of us in every generation must do our part." John Lewis
Joyce Nakamura
I am so overcome by the response to the CANE 50th Anniversary, that it is hard to express in words the feelings that I have experienced and continue to experience!First of all, I think we ex-CANE members recognized the significance of our role in SF Japantown history, but to have it confirmed was overwhelming! For an organization that has not existed for 40 years, to have a show of support by those attending (and unable to attend) the Anniversary was so heartwarming.The event planning and the event itself brought back memories of the camaraderie among CANE activists and what a life-changing experience that it was for many of us. Our heart and soul was in the CANE struggle which built live-long friendships among us. I am so happy and proud to have been part of a cohort of Japanese American college students who went to the community to work shoulder-to-shoulder with the residents and shopkeepers to stop the destruction of J-town. This experience shaped my identity as a Japanese American social justice activist and the adoption of the view of empowering those affected by injustice and uplifting their voices. This has been my lifelong calling.Having "come back" to the community in 2017 to take up social justice work, it's been difficult on my own to express the importance of grassroots, multi-generational organizing. Looking back, to demonstrate what CANE was in the way we did at the 50th program may have been useful to bring this understanding to new community activists to see and witness the power of grassroots organizing and how this approach actually builds a broad movement among different sectors. I am so thankful that Boku Kodama produced the CANE documentary, "Gambaro!" so that those that didn't attend the 50th event, can get a sense of the significance of CANE and how we organized in the community.As we go forward with the Sansei Legacy Fund campaign, I hope that CANE's perspective of uniting all who can be united around a common cause, building a grassroots movement and empowerment, can be lessons that younger generations experience through this campaign and can embrace for the future.Donna Kotake: Waiting since August 28, 2023John Ota: Waiting since August 28, 2023Kitty Mah: Waiting since August 28, 2023Joan Takano: Waiting since August 28, 2023Tracy Takano: Waiting since August 28, 2023
Where Do We Go From Here?
Everyone agrees that ownership of land and property controlled by community groups will be one major way for Nihonmachi to control its future. And all of this will require money and a collaboration of organizations willing to work together not just in policies but in the actual work of securing properties.Too often, there has been money and great efforts in writing up policies and research papers but inadequate resources to execute an implementation. How can we change this? How can we design our efforts so that we can achieve financial resources and concrete actions that will build new affordable housing, retail spaces and enough community spaces for all of our social and cultural needs?One such solution is an initiative that former CANE activists have developed. Called the Sansei Legacy Trust Fund (sanseilegacy.org), we are raising monies that will serve as a down payment or supplemental funds for the purposes indicated above. We want low cost housing and retail spaces. We want to insure that community groups will always have spaces where they can work and serve Nihonmachi. And we need everyone, not just Sansei to make a donation to this fund. Please click on the Sansei Legacy button on top for more details: sanseilegacy.org.Secondly, it's been addressed by the City of San Francisco that redevelopment caused the destruction and dispersal of both Nihonmachi and the Western Addition, causing residents and businesses to lose millions as well as social and cultural security. For most Japanese Americans, this is the equivalent of a second illegal evacuation. And we believe the City and Federal governments have an obligation to return to the community what they had unlawfully confiscated.For more information on the history of this episode, please check out the new documentary, "Ganbaro! The Fight for the Final Four Blocks." Click on the Ganbaro button at the top of this page for the details."A final note that this is a neighborhood that has been damaged irreparably by the presumptions of outsiders . . . "
- Report by the SF Planning Dept., December, 2019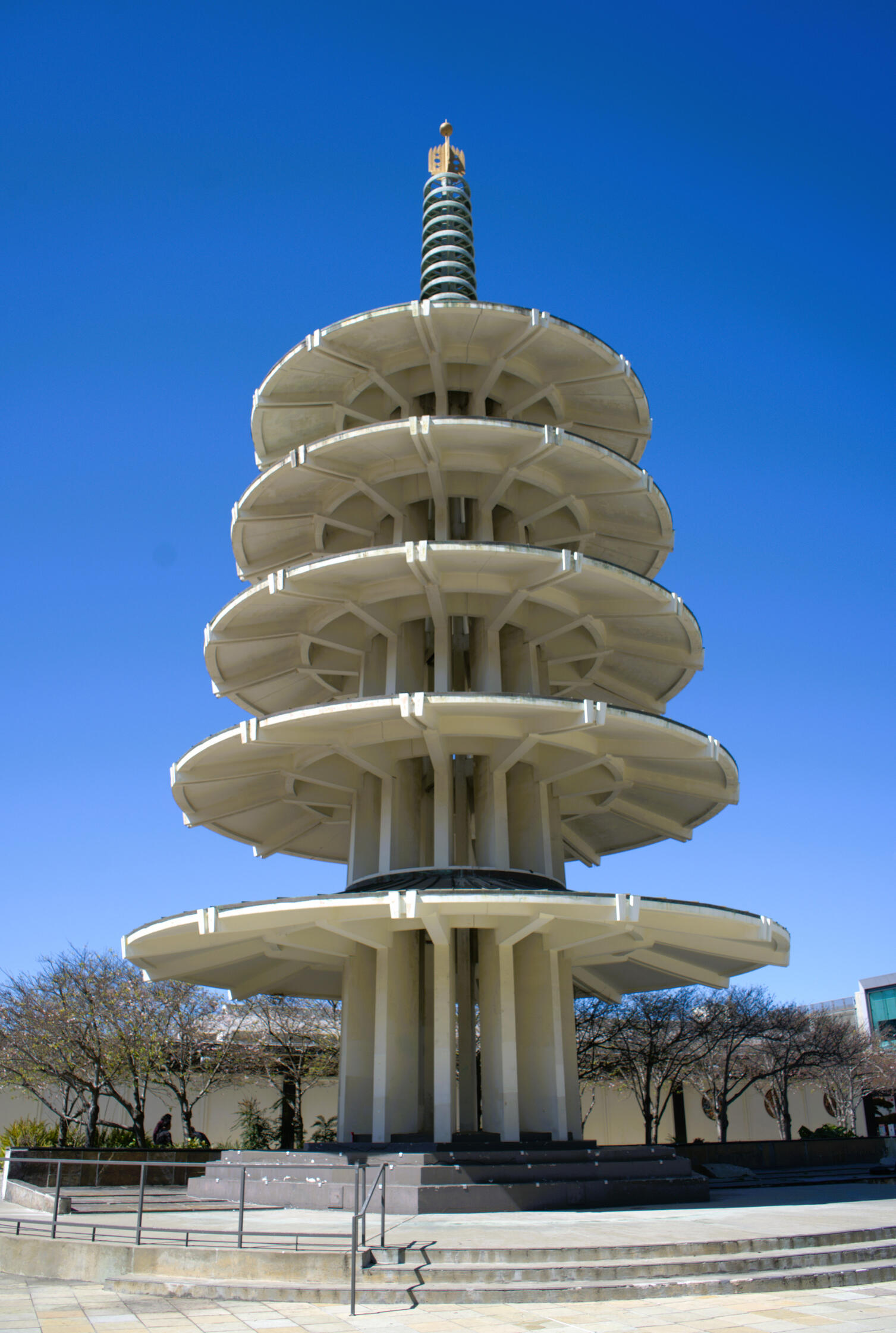 Planning this Event was A Real CANE Experience!
The CANE Anniversary Planning Committee began organizing this event in 2021. It was a way for us to reconnect and work together again for the first time in many years. It never felt like a chore. it felt natural. It felt as if we had a shared purpose for the common good. There was never a moment of awkward hiccups. Instead, our bonds from our days in CANE, never left us. We came together as if we had only been gone for a few weeks.That culture from our CANE days came instinctively, automatically. The embedded memories of our past work formed a true bond around us - one of respect, mutual compassion and the trust that we would always be there for each other.Organizing this event had its challenges but we felt confident that whatever obstacles came before us, we would be able to figure it out just as we had fought overwhelming odds against redevelopment and big money. We always knew an answer was there for us to discover.CANE had shaped our experiences - to respect one another, to always do the right thing for our community and initiate the action in order to make things happen. After leaving CANE, each of us went forward in our careers and lives. And we continued with these same ideals because we knew what we learned in CANE was the right way to live life. Thus, when coming full circle to organize this anniversary, there was never a doubt in how we would proceed.Our Anniversary Committee consists of the following former CANE activists shown below during our activist days:Top L-R: Kim Geron, Mickey Imura, Jeanie Hibino, June Hibino, Boku Kodama, Donna Kotake
Bottom L-R: Lucien Kubo, Joyce Nakamura, John Ota, Joan Takano, Tracy Takano and Kitty Mah.
Not pictured: Ken Yamada and Steve Hom.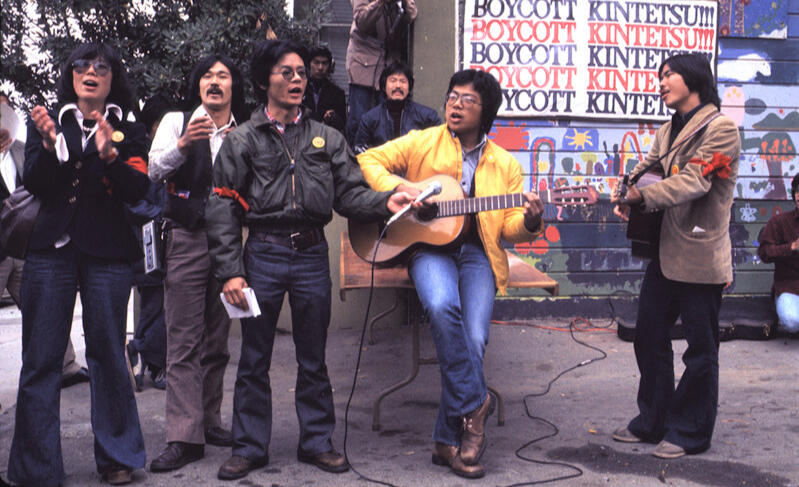 L-R Carole Hayashino, Mickey Imura,
John Ota, Billy Tamayo. Butch Wing
These black and white photos of CANE activists from J-town Collective files.
News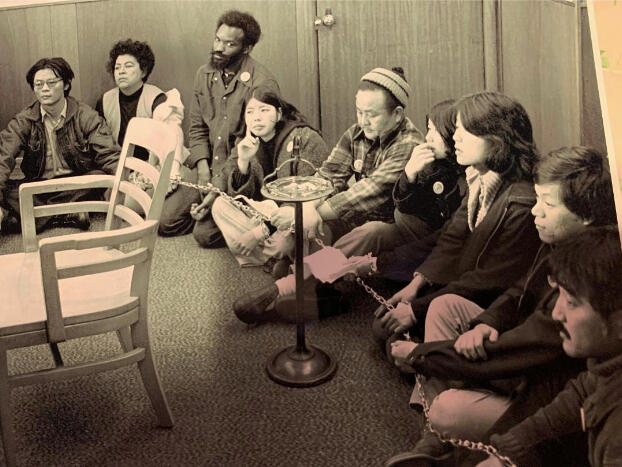 The February 13, 1975 sit-in by CANE members at the Western Addition Redevelopment Agency office. Author June Hibino is the fourth from the left.
Photo: New Dawn Newspaper
"Celebrating activism and community" is theme of 50-year CANE anniversary on Aug. 19
July 18, 2023 by June hibino
ANTI-EVICTION PROTESTS BY JAPANTOWN ACTIVISTS AND RESIDENTS TO BE COMMEMORATED
In 1975 and 1976 in San Francisco, members of the Committee Against Nihonmachi Eviction (CANE) — tired of seeing residents and small businesses being ignored and disrespected by the Redevelopment Agency (RDA) — staged sit-ins at the Mayor's office and at the RDA office in the Western Addition.These sit-ins, along with many other protests and tenant support activities, will be fondly remembered when former CANE activists and supporters gather at the Japanese Cultural & Community Center of Northern California on August 19 to celebrate their efforts to stop the destruction and dispersal of Nihonmachi.
---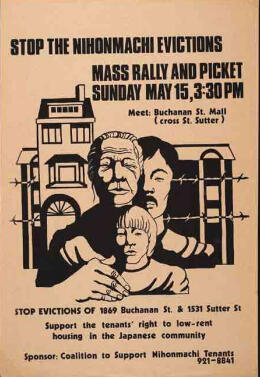 Poster advertising a CANE rally.
Aug. 19 Event to Mark Fight to Save S.F. Nihonmachi 50 Years Ago
March 1, 2023
SAN FRANCISCO – On Aug. 19, members of CANE (Committee Against Nihonmachi Eviction) will gather here to recall their decade-long effort, which began 50 years ago, to preserve Nihonmachi in the face of evictions and gentrification of the community by the Redevelopment Agency and corporate interests.Active in the 1970s and 1980s, CANE, through grassroots organizing and mass protest, succeeded in helping residents and small shopkeepers delay eviction, sometimes for years. CANE also supported and helped realize the construction of the Japanese Cultural and Community Center of Northern California, Hinode Towers, and Kimochi Home.
Nihonmachi was a vibrant, diverse neighborhood of friends, family, residents and small businesses.
We didn't always see eye-to-eye with each other but we all had a common goal: keep Nihonmachi our home!
Top L-R: March Dobashi, Roy Abbey, Freddie Powell and Clarence Spears, Sumi Honnami and her dad, Mr. Nakamoto at American Fish
Bottom L-R Harry and Sue Wong, Liverittes, Waraku Sushi Bar, Seniors at Buddhist Church, Tom Yoshida and Mike Tsukahara. Photos by Boku Kodama
---
Committee Against Nihonmachi Eviction
CANE 50th Anniversary
August 19, 2023