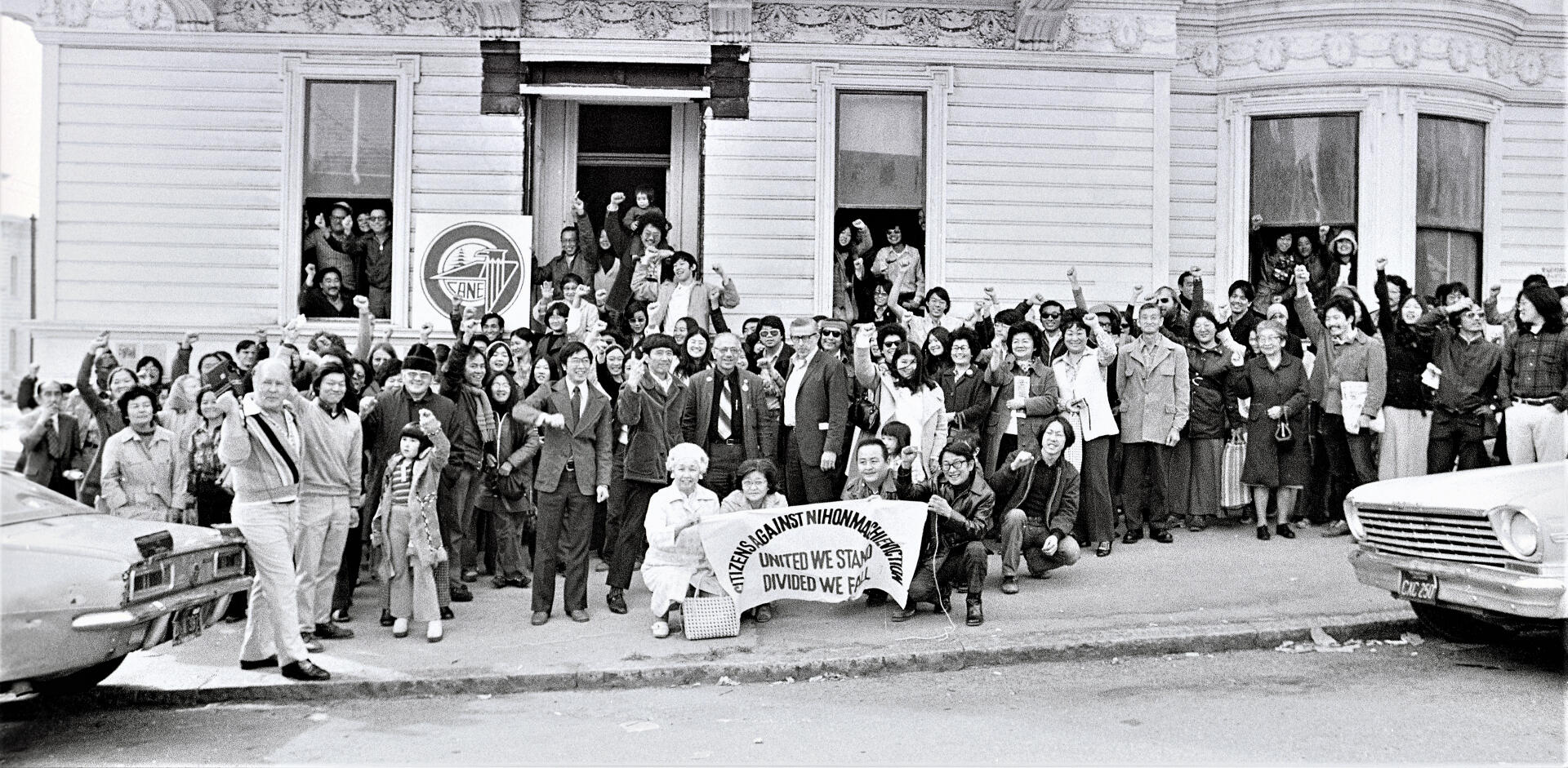 CANE 50th Anniversary
Join Us - August 19, 2023
---
In February of 1973, a unity of residents, small businesses and students led by the
J-Town Collective, a progressive political action group, formed the Committee Against Nihonmachi Eviction. Its goal was to fight the bulldozing of San Francisco's historic Japanese community. More than 300 from the community joined in.

Today, we celebrate the movement we engaged in as young community activists, foregoing career opportunities to fight for Japantown using CANE's principles:
1. Stop the destruction and dispersal of the Japanese community and keep Nihonmachi a residential and small business area.
2. Uphold the rights of residents and small businesses.

Join us August 19, 2023. Watch this website for further details.
Residents and small businesses at Sutter & Laguna united together
Our 50th Anniversary celebration will be an afternoon event reuniting old friends,
personal reflections, a historical summary and a short video presentation.
If you have personal memories and materials from any level of your CANE experiences, please share it with us using the contact form above.
We were in our early 20s when CANE was formed. Now half a century later, we recall the hard fought battles of a small yet determined bunch that grew into a crusade going viral across the country. While we fought within a small geographic region, our work was part and parcel to the national reckoning of the era including civil rights, economic equality and the antiwar movements.

We're sponsoring this 50th commemoration of CANE not just to reflect on our work but to relate those experiences in hopes it will provide our lessons-learned to our new generation of progressive community activists.

If you'd like to participate in planning this event, please use the form above to contact us.
Our Anniversary committee consists of the following former CANE activists shown below during their activist days: Top Row L-R: Kim Geron, Mickey Imura, Jeanie Hibino, June Hibino, Boku Kodama, Donna Kotake, Lucien Kubo, Joyce Nakamura Bottom Row, L-R: John Ota, Joan Takano and Tracy Takano.
Not pictured: Ken Yamada and Mark Voorhees who are working with us on a video documentary of CANE's history.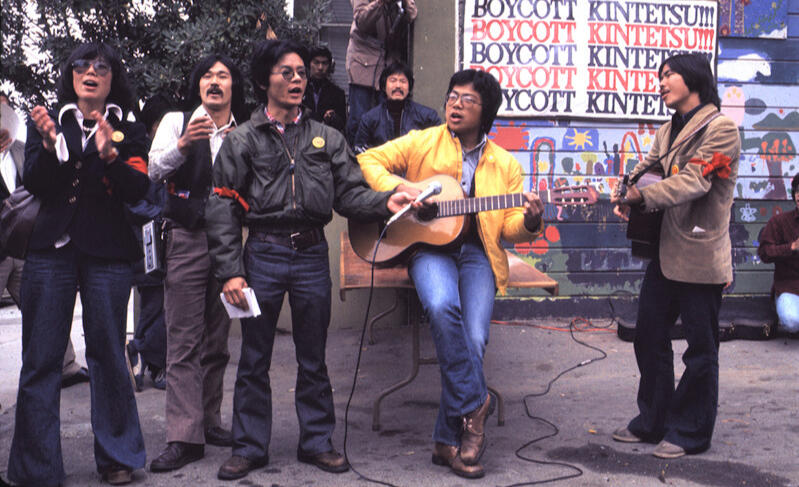 L-R Carole Hayashino, Mickey Imura,
John Ota, Billy Tamayo. Butch Wing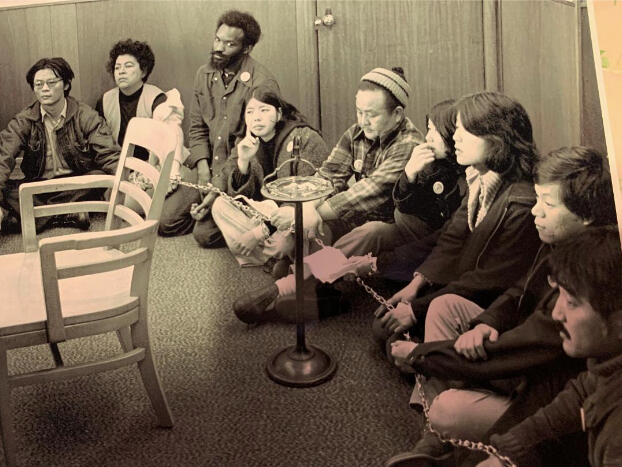 Today, the dialogue to determine Nihonmachi's future continues, a process that's been on-going for two decades by the Japantown Task Force - japantowntaskforce.org. It has been addressed for as long by JCCCNC (Japanese Community Center) - www.jcccnc.org.

The community continues to shrink partially because fewer Japanese Americans exists and our younger generations have broader interests than working in the community tending their family businesses. But the fact remains that Nihonmachi stands at the heart of Northern California's Japanese American heritage going back 150 years.

We've watched the extinction of plants and animals in nature. Are we going to allow for the extinction of a community and the story of a people who added so richly to America? Is this not worth the fight to keep San Francisco's Nihonmachi a vibrant, inclusive destination for future generations?
The Shimamotos looking out their window on Buchanan Street during the Cherry Blossom Festival, 1974
Nihonmachi was a vibrant, diverse neighborhood of friends, family, residents and small businesses.
We didn't always see eye-to-eye with our neighbors but we all had a common goal: keep Nihonmachi our home!
Top L-R: March Dobashi, Roy Abbey, Freddie Powell and Clarence Spears, Sumi Honnami and her dad, Mr. Nakamoto at American Fish
Bottom L-R Harry and Sue Wong, Liverittes, Waraku Sushi Bar, Seniors at Buddhist Church, Tom Yoshida and Mike Tsukahara

CANE group photo on Home Page by Richard Wada. CANE Activists photo from J-town Collective files. Other photos by Boku Kodama in 1974
Text